"The Best In Cowboy Guns!"
Since 1956
The Cowboy was king in 1956 and Early and Modern Firearms, Inc. (EMF) was founded to supply the demand for the guns seen in the movies and on television. At that time Colt had stopped production of single action revolvers and declined to resume production. EMF became a major distributor, and then manufacturer, of the Great Western, the first reproduction of the famous Colt Model 1873 SAA. When the strong dollar made it too costly to produce the Model 1873 in the U.S., EMF turned to Europe as the European gun manufacturers began the replica firearms industry there. During the past 57 years, EMF has traveled the world to bring "The Best In Cowboy Guns" to first, American Cowboys, and then Cowboy Action Shooters. EMF's efforts have culminated in the introduction of the Great Western II, which is an authentic copy of the original 1873 Colt.
EMF's mission is to provide quality, authentic, but safe firearms at the best prices. The keystone of EMF's "Cowboy Way" is to provide friendly, personal customer service and stand behind our products. The amazing growth of the sport of Cowboy Action Shooting has fueled the demand for the guns of the Old West. Boyd A. Davis, CEO/President of EMF is also known as General U.S. Grant, SASS #2. He is a Founding Father and the President of SASS. Naturally, EMF has been a major sponsor and supporter from the earliest days of the sport. Pictured below are "The General" and "his posse", representing 4 generations of his family who are active members and competitors in SASS. While all are accomplished shooters. Mr. Davis' Great Granddaughter, Lulu Sureshot, SASS #66230 has the "bragging rights" in this family. At End of Trail (EOT) 2008, she earned a Buckerette World Championship! Congratulations, Lulu Sureshot!
In 2008, EMF introduced new versions of the Great Western II single action revolver, manufactured in Italy by F.LLI Pietta. Earning the award for the 2008 SASS Product of the Year was the GWII "Alchimista", named after Alessandro Pietta aka Alchimista, SASS #41531, who personally designed it. In December 2008, EMF & Pietta debuted the GWII "Pony Express" revolvers designed specifically for Cowboy Mounted Shooting competition.
Even as Early & Modern Firearms, Inc. celebrated its 56th Anniversary of service to the trade, we point toward the future. In 2011, EMF added some high quality U.S.A. made modern firearms to the product line. This modern line will included a lightweight, compact 9mm Double Action semi-automatic pistol with interchangeable low profile sights. In 2012, EMF Company became a major distributor of the Escort, Howa, Citadel, and ISSC firearms, which are imported by Legacy Sports International.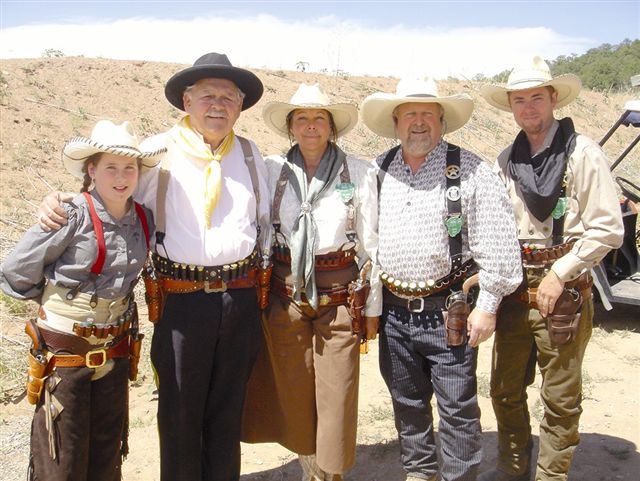 Find the quick answers to your questions here online. Or call our friendly, live Customer Service representatives:
800-430-1310
949-261-6611
Monday through Friday
9:00am - 4:30pm Pacific Standard Time
Write Us:
EMF Company, Inc.
1900 East Warner Ave. Ste., 1-D
Santa Ana, CA 92705