Great Western II "Buntline"
New to EMF's Great Western product line is the 12" Buntline. With the deep color case hardened finish, smooth action, and choice of walnut, ultra ivory or ultra stag grips, this pistol is a handsome addition to the finest gun collections. The first version of this unique firearm was rumored to have been designed by Colt for Ned Buntline.
The Colt Buntline is a long barreled variation of the Colt Single Action Army revolver, in which Stuart N. Lake described in his best-selling, but largely fictionalized 1931 biography, Wyatt Earp: Frontier Marshal.
According to Lake, the dime novelist Edward Zane Carroll Judson, Sr. writing under the pseudonym of Ned Buntline, commissioned the guns and presented them to five lawmen Wyatt Earp, Bat Masterson, Bill Tilghman, Charlie Bassett, and Neil Brown in thanks for their help in contributing local color to his western yarns.
The Buntline became popular after its appearance on the TV sitcom Wyatt Earp. The success of the series created a flurry of sales on toy cap guns and holsters. There was also a demand for a gun like TV's Wyatt Earp. Colt shipped the first commercial Buntline Special as a sample to a factory rep on July 30, 1957. Colt presented and inscribed a Buntline Special to Las Vegas, Nevada Police Officer Walter R. Earp Jr., a grandnephew of Wyatt Earp. All second generation Buntline Specials were 45 Colt and approximately 4,000 produced between 1957 and 1974.
Manufactured by F.LLI Pietta.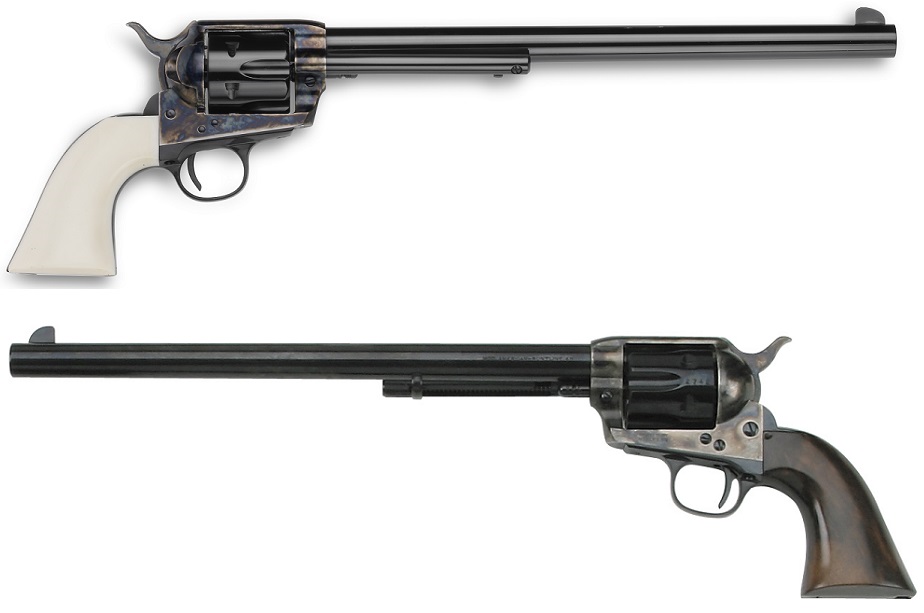 EMF Great Western II Buntline Revolver