Specials
Check out our store specials! We have gone through our catalog and hand-picked some of the best deals for you.
Running Sales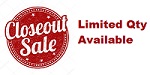 "Freedom" Closeout Savings!
Closeout Savings! 1873 SA "Freedom" models - a "must have" for every collector, patriot, or shooter! Sale prices valid through 4/30/2019.

Gear up! (Extended)
Come one, come all, whether you are a Civil War enthusiast, a re-enactor, or collector, stock up on our most popular accessories for percussion revolvers. Take 15% off, valid 3/27-4/3/2019. Sale valid to quantity on hand.

Hot Deals on Hot Steel! (Take 2)
Steel Frame Black Powder Revolvers on sale. 15% off. Expires 4/23/19

Other Specials
Price: $35.00
List Price: $60.00
You Save: $25.00 (42%)
Price: $776.00
List Price: $970.00
You Save: $194.00 (20%)