1858 Army and Sheriff Models
1858 Remingtons
The ruggedness of the solid frame and the ability to quickly change cylinders made the Remington Army a favorite of officers and infantry alike during the Civil War. More than 125,000 of these revolvers were produced by Remington. EMF offers this piece of history in your choice of brass, steel or stainless steel. Manufactured by F.LLI Pietta.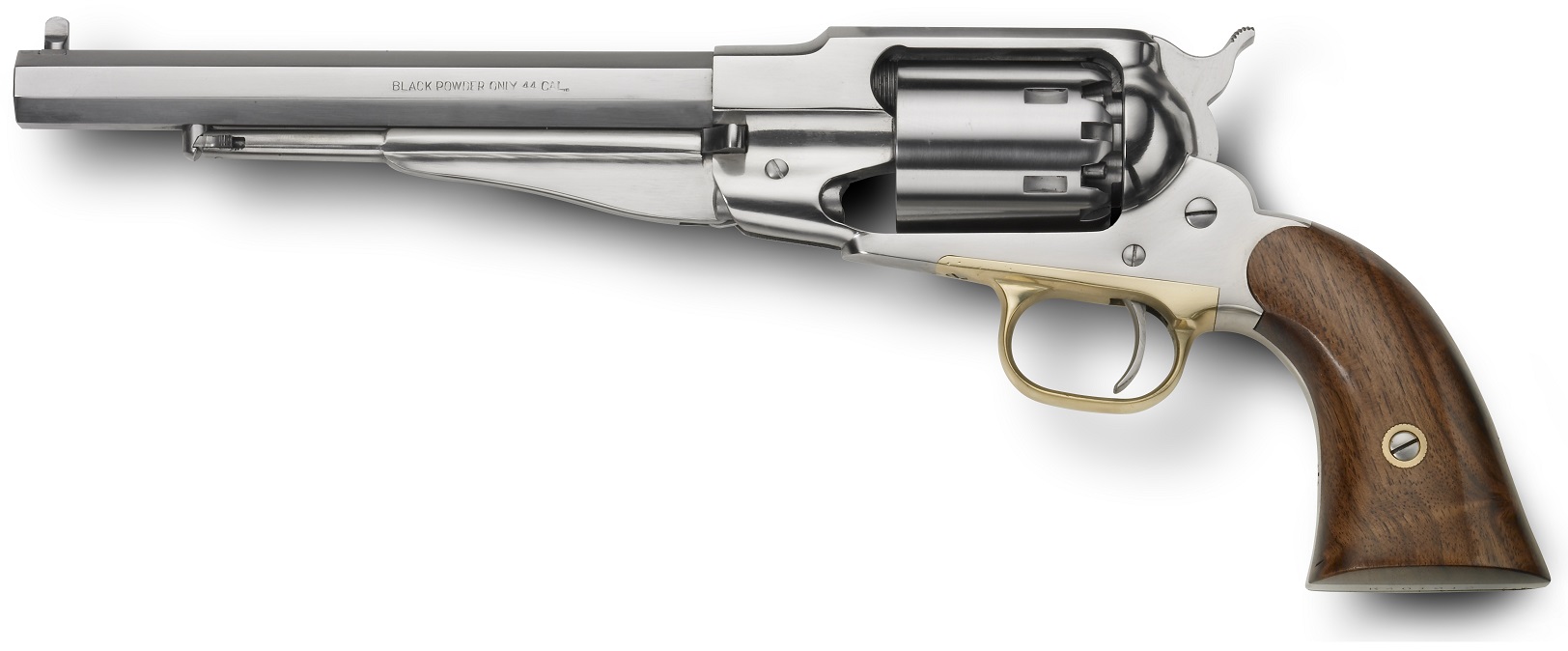 ATTENTION: Residents of HI, IL, MA, MI, NJ, and NY - company policy is to ship any Black-Powder firearm to an FFL Dealer only.

Price: $575.00
Rated:





.44 CALIBER
STAINLESS STEEL
5 1/2" BARREL
ULTRA IVORY
TEMPORARILY OUT OF STOCK.
Price: $530.00
.44 CALIBER
STAINLESS STEEL FRAME
8" BARREL
Price: $365.00
.36 CALIBER
BLUED STEEL FRAME AND BARREL
6 1/2" BARREL
Price: $327.00

Rated:





.44 CALIBER
BLUED STEEL FRAME AND BARREL
5 1/2" BARREL
Price: $365.00
Rated:





.44 CALIBER
BLUED STEEL FRAME
8" BARREL
Price: $365.00
Rated:





.44 CALIBER
BLUED STEEL FRAME
8" BLUED BARREL
ADJUSTABLE REAR SIGHTS
TALLER FRONT SIGHT
Price: $530.00
Rated:





.44 CALIBER
NICKEL ENGRAVED
8" BARREL
ULTRA IVORY GRIPS
BRASS FRAME

Price: $95.00
Rated:





.44 CALIBER
NON ENGRAVED
Price: $130.00
Rated:





1858 NEW MODEL ARMY
.44 CALIBER CYLINDER WITH NIPPLES>br>STAINLESS STEEL
NON ENGRAVED
(Pietta Product Number A432/IX44)

(TEMPORARILY OUT OF STOCK)