Black Powder Starter Kits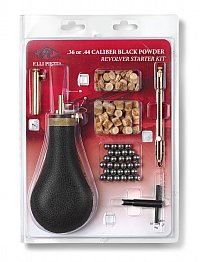 Everything you need to start shooting your black-powder revolver is in the starter kit except the powder and caps, at a signifiacnt savings over purchasing them separately.
This kit includes:
(1) Nipple Wrench
(1) Straight-line Capper
(1) Powder Flask
(1) Adjustable Powder Measure
(30) Lead Round Balls
(30) 3mm-thick Lubed Wads
(30) 10mm-thick Lubed Wads.

Calibers: .36/.44
COMING SOON!
NOW TAKING BACKORDERS.
Price: $70.00
Rated:





Price: $70.00
Rated: