Citadel 1911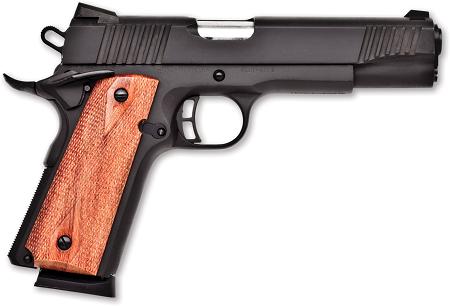 CITADEL M-1911

This 1911 semi-auto packs a lot of extra features without the extra price! This is a full size 1911 that comes in matte black, wood grips and in .45ACP. Built by Armscor (Rock Island Armory), the Citadel M-1911 series offers solid performance and reliability for sport shooting, concealed carry and general shooting. Each pistol comes with a lockable, hard plastic case.

Features include: a skeletonized hammer & trigger, extended - ambi-thumb safety, slide stop with grooves, flared ejection port, full length guide rod, and 5" barrel.
THE FULL SIZE 45ACP MODEL IS NOW CALIFORNIA APPROVED!
| | | | |
| --- | --- | --- | --- |
| .45ACP, 3 1/2" BARREL | 1911-CIT45CSP | $590.00 | |
| .45ACP, 3 1/2" BARREL, HOGUE BLACK GRIPS | 1911-CIT45CSPHB | $650.00 | |
| .45ACP, 3 1/2" BARREL, HOGUE GREEN GRIPS | 1911-CIT45CSPHG | $650.00 | |
| .45ACP, 3 1/2" BARREL, HOGUE SAND GRIPS | 1911-CIT45CSPHS | $650.00 | |
| .45ACP, 5" BARREL (CALIFORNIA APPROVED) | 1911-CIT45FSP | $590.00 | |
| 9MM, 3 1/2" BARREL | 1911-CIT9MMCSP | $590.00 | |
| 9MM, 5" BARREL | 1911-CIT9MMSFSP | $590.00 | |
| 8 ROUNDS, .45ACP | MAG1911CIT45 | $35.00 | |