Trust D-Rust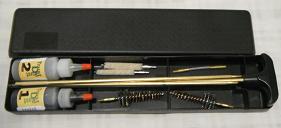 TRUST D-RUST
Deluxe Rust Removal & Chamber Cleaning Kit

Removing corrosion from the interior of your firearm is easy. Trust D-Rust cleaning kit is designed to salvage/repair a firearm where corrosive ammo was used and the gun was not 100% cleaned at the time that it was put away. Corrosive ammo contains mercury & salts which promotes quick corrosion of steel surfaces.

The Trust D-Rust kit will easily clean the following calibers:
.223 30-30 .308 30-06 8mm
7.62x39 7.62x51 7.62x54r 7.62x63 5.45x39
Trust D-Rust removes Rust & Corrosion from ferrous metals.
Safe non-toxic, non-flammable formulation.
Safe to handle, use & store.
Mild odor, ideal for indoor use.
Completely organic and biodegradable.
Non-polluting.Removes corrosive ammo salts.
Environmentally acceptable for easy disposal.
Recommended for those who use Military Ammunition and the Black Powder enthusiast.
No products have been assigned to this category.

Back